As more and more industries discover the benefits of unmanned aerial vehicles (UAV), drones have emerged as a reliable tool for collecting unlimited aerial data and providing real-time visibility for a wide range of industrial and tactical applications.
It comes as no surprise then that drone investments in 2021have more than doubled from 2020, and the global drone market is expected to grow at a rate of almost 10% CAGR.
As this infographic from Drone Industry Insights indicates, the top three industries for drone technology are Energy, Construction, and Agriculture. Combined, these industry verticals represent more than one-third (35%) of drone applications, with 14% in the Energy industry, 12% in Construction, and 9% in Agriculture.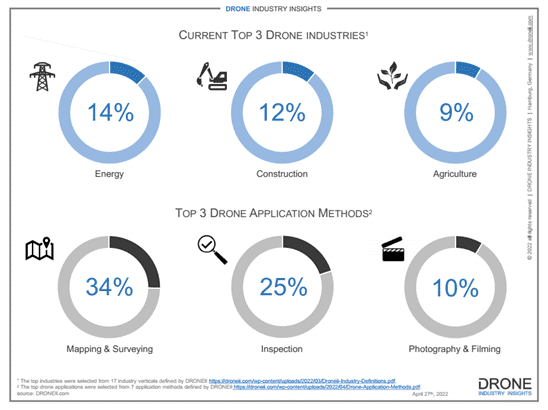 The infographic also shows that the top commercial uses for drones are Mapping & Surveying (34%), Inspections (25%), and Photography and Filming (10%), representing 69% of the market. This makes logical sense because aerial drones deliver significant benefits over humans for these applications. Inspecting extensive infrastructure, mapping/surveying a vast piece of land, or using aerial photography/filming with a drone instead of a human makes the process faster, safer, and captures better data. Download the infographic here.
Outside of these commercial industries, drones have taken an increasingly strategic role in military and HLS applications for the same reasons. Surveying, inspections, and photography are essential elements for tactical military and defense applications. The necessary information is collected efficiently and without risk to human life.
Smart Video and AI Upgrade Drone Capabilities
Drones have far proven their abilities in these industries. But for heightened accuracy, drones need to be equipped with sophisticated onboard video technology. The ability to capture, stream, process, and interpret high-quality video in real-time has emerged as a key technology component in modern-day drones.
Maris develops and manufactures the smart onboard architecture that enables real-time and accurate video processing necessary for effective decision making, data analytics, and ultimately, mission success. Designed to integrate with land, sea, air, and space platforms, Maris' compact and modular architecture is the field-proven solution of choice for accurate intelligence gathering and situational awareness for a wide range of applications.
All of Maris' sophisticated solutions offer best-in-class SWaP, multiple streaming, high video quality, low latency, robust communication capabilities, and are highly modular and flexible. They are ideal for a range of applications, including the top drone applications for 2022: Energy, Construction, and Agriculture, as well as military and HLS applications.
Commercial drone applications
The Energy industry uses drones for several use cases, including aerial inspections of pipelines, oil tank storage, and wind turbines. Drones eliminate the need for human inspectors to enter dangerous areas and allow the energy generator to continue operating even during these inspections.
In Construction, drones are mainly used for surveying and inspection purposes, including initial site survey and measurement, construction mapping and 3D modeling, progress monitoring, and to ensure the security and maintenance of construction sites.
The Agriculture sector uses drones to collect fundamental data points used for precision agriculture, crop evaluation, field management optimization, and for physical tasks such as efficiently dispersing pesticides or fertilizers.
The demand for integrated intelligent technologies in the commercial market is growing rapidly, driving a need for high-performance video processing and analytics. Maris' solutions provide high-quality video and communication capabilities for reliable intelligence gathering and situational awareness with an increased range for surveillance systems, site and infrastructure inspection, precision agriculture, and more. Maris' products have been successfully implemented in commercial industries and have proven their durability under harsh operating conditions.
HLS drone applications
Police and emergency services are increasingly utilizing aerial cameras for a wide range of homeland security applications, including special events, law enforcement, crisis management, and the maintenance of public safety in urban environments.
Real-time situational awareness through video surveillance, imaging, and analytics is an essential element of HLS security and protection systems. Maris' modular solutions can be integrated with a wide range of platforms, including drones and unmanned vehicles, providing advanced video transmission capabilities to support Homeland Security missions and applications, including crowd control, surveillance and security for smart cities, critical infrastructure monitoring, law enforcement, border patrol, first responders' emergency management, and more.
Military drone applications
Since the 1880s, military units have used early forms of "drones" in their wartime strategies. Today, drones are a strategic part of many military missions, used for decoy, surveillance, and even payload-based missions.
In the modern defense market, end-to-end low latency streaming, rich video processing, and analytics capabilities on small platforms are critical, driven by the expanded implementation of smart video surveillance, AI-powered intelligence and tactical applications, sophisticated ISR systems, and Big Data analysis. Maris' integrated systems for defense applications incorporate comprehensive video processing and analytics on a wide range of platforms for telemetry mounted video, surveillance and security, intelligence gathering, covert and tactical operations, missile and target acquisition, and observation systems. The high-performance systems can be incorporated in weapon sights, helmet-mounted systems, UAVs, and body-worn devices, delivering reliable and continuous situational awareness with an extended range indoors, outdoors, and in harsh environments.
Case Study
Aero Sentinel, an Israeli-based drone manufacturer for diverse commercial, tactical, and HLS applications, installed Maris Neptune-Nano video streaming systems on their aerial vehicles. Using Maris' video display and debriefing software tools, Aero Sentinel's drones are currently in operational use for mine surveys, turbine inspection, aerial photogrammetry and photography, tactical ISTAR missions, firefighting and environmental protection, and pipeline and power line monitoring. Following the system's proven success, Aero Sentinel plans to upgrade its drone video performance with Maris' new Mercury-Nano advanced video streaming platform. Watch Maris in Action here.
For more information about how Maris' Smart Video & AI at the Edge solutions can upgrade your drones, contact us at sales@maris-tech.com